Written by Eli Effinger-Weintraub and directed by Scott Boswell,
Wingman
gives new meaning to the phrase "How I Met Your Mother." Deb (Janessa Olsen) is a newly single and highly stressed lesbian who owns a bakery. For the past six weeks she has been coming to a women's bar to ogle Brenda (Dezi Soley), a sexy bartender.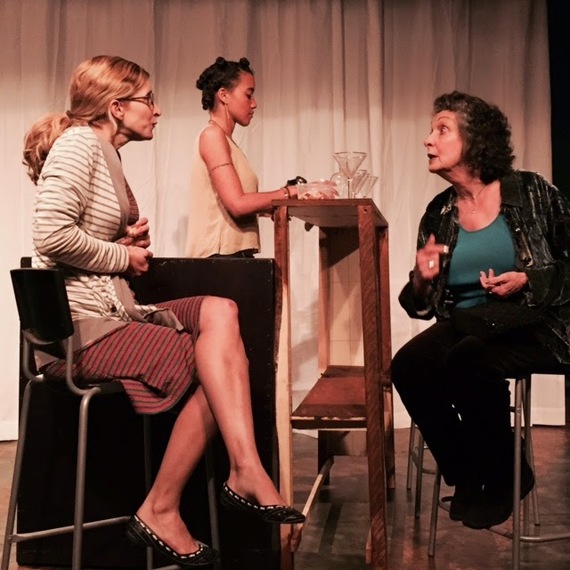 Janessa Olsen (Deb), Dezi Soley (Brenda), and Maya
Mahrer (Marian) in Wingman (Photo by: Jake O'Kelly)
On this particular evening, Deb's pushy mother, Marian (Maya Mahrer) has convinced Deb to make barhopping a mother-daughter night out on the town. While Deb has been in the ladies' room, Marian (who has a thick New York accent) has been handing out her daughter's business cards to anyone she thinks is single. When mother and daughter start to argue, Marian tells Deb "You should thank me. I could save you a fortune on batteries!" Much to Deb's surprise, Brenda finds Marian absolutely adorable and informs Deb that she plans to make use of the business card she was given while Deb was out of the room.
-George Heymont.
Click here for full article
.